What is a STRONG Node?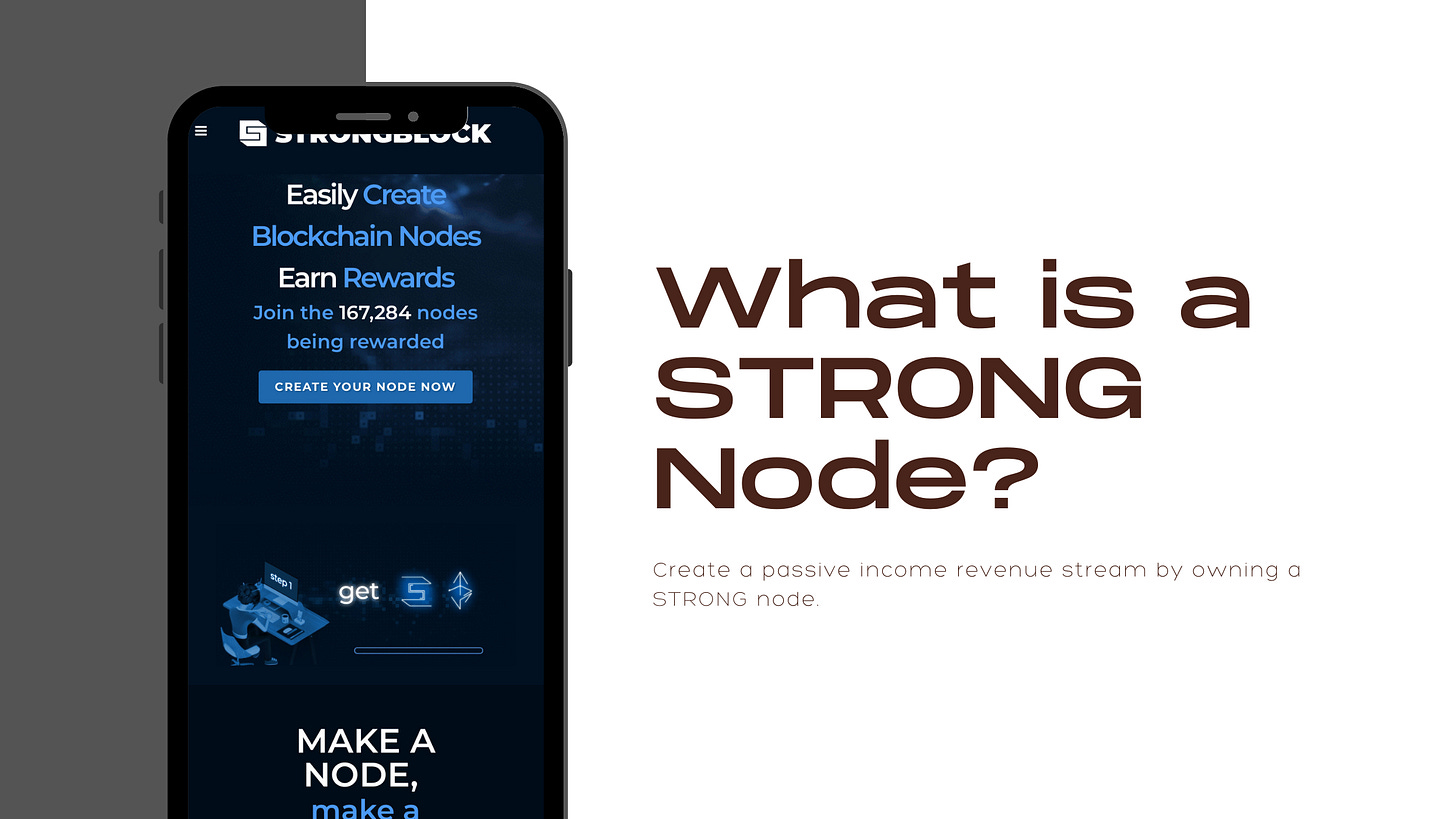 In this article I plan on breaking down STRONG nodes, what they are, how they are utilized, what even is a node, and how you can make passive income from it. Let's ease our way into it by starting with what a node actually is.
What is a Node?
A node is a piece of software that connects to other nodes to create a network. Nodes send, receive and store data. Nodes provide integrity and network security and are a requirement for the blockchain to work correctly.
You probably already have a node setup in your home currently and don't even realize it. Here is an example:
Think of your router/modem as your "network" or in this case that is the blockchain.
You probably have TVs, laptops, phones, gaming devices that are all connected to your network to function. All of those items can be considered nodes.
And without these "nodes" your router/modem is useless because it is not connected to anything.
This is exactly the same for the blockchain, if it doesn't have nodes to connect to, then it is basically useless.
In the case of the blockchain, these nodes are utilized to enforce the rules or transactions that take place on the blockchain. The nodes are designed to validate these transactions. That's why you may notice whenever you make any crypto transactions, it usually takes a few minutes at least to process. That's because on the backend, the nodes are validating and approving the transaction.
Each blockchain has its own protocol or way of validating transactions. For example, bitcoins blockchain operates differently than ethereums which operates differently than Avalanche and so on. So what a node does on each blockchain may greatly vary dependent on how that chain operates.
A node does require a piece of hardware to operate on, just like our example above. Your cell phone is a node aka the software being iOS or Android, however that software still needs the physical device or hardware for it to operate. Same thing goes for a node.
I go into additional detail on nodes in this Twitter thread if you want to give it a look:
What is a STRONG Node?
So now that we know what a node is, let's talk a little bit about STRONG and what it is and how it works. Also, the coin ticker is called STRONG however the company name is Strongblock, you may see me use either or throughout this article. They are interchangeable.
For starters, STRONG nodes operate on the Ethereum network. One of the small drawbacks to purchasing and setting up a STRONG node is you will have to pay ethereum gas fees on this transaction. This can be a little bit of a pain point however generally if you try to execute the transaction early in the morning you can get a substantially lower fee as the network isn't as congested.
STRONG nodes are setup as NaaS (Nodes as a Service) that means; Strongblock takes on the hardware, setup and technical aspect of everything and you just buy a node and don't have to worry about any maintenance outside of a $14.95/monthly maintenance fee.
So what Strongblock is doing, is taking care of all the heavy lifting and maintenance of the node and providing you a daily reward for buying one, this is how you start to earn passive income from the node.
Strongblock is one of the first in the crypto space to offer a NaaS type of service to the public. They have seen pretty strong adoption as they have had over 165,000 nodes created at the time of writing.
How Does Strongblock Make Money?
I have gotten this question asked quite a few times, and it is an important question, obviously you don't want to invest in something that doesn't turn a profit or else you may not turn a profit either.
Currently Strongblock is working on partnerships with other DeFi protocols and blockchain networks to offer additional services and build out other revenue streams in the future. Most recently, they are working on partnerships with the Fantom blockchain network as well as generating revenue from some of the NFTs they offer which if holding offer a rewards boost to node operators.
But outside of what is on the horizon, they currently generate most of their income on the monthly fees paid by node operators. They charge a $14.95/month fee for owning and operating a node. Currently with 165,000 nodes in operation, that is generating roughly $2,466,750/month. Not too shabby.
Ok, I Want In! What Do I Do?
Ok, so after reading up to this point, you like what you hear and you want to jump on buying a STRONG node. Let's go through the process, costs, and details to buy and operate a node.
Where to Buy STRONG
There are mainly 3 places to buy STRONG:

1. KuCoin
2. UniSwap
3. Gate.io
My recommendation would be to purchase STRONG from KuCoin, using that method you will be able to bypass any ethereum gas fees for swapping coins and will only have to pay the gas fees when creating the node on Strongblock's website.
Right now the price of STRONG is about $530/token. To create a STRONG node, you will need 10 STRONG. That means, it will cost you roughly $5,300 to create the node.
Once you have acquired 10 STRONG, you then will want to navigate to their website so you can create your node.
Once you have navigated to the site, make sure you click on "App" in the top right corner or "Create a node"
Now that you are in the app, you will want to connect your wallet and click on "Create a Node"
Then it will ask you to name your node and provide a description of it. You can name your node whatever you would like, and in the description I just put the date I purchased it so I can keep track if I buy multiple nodes.
Once done, you should receive a MetaMask pop up asking you to pay gas fees and confirm the transaction. Once you pay these gas fees, the only other time you will need to pay gas fees is when you pay your monthly fee or you claim any STRONG to move back into your wallet.
That's basically it. Congrats! You just created your first STRONG node!
How Much Will I Make?
Right now, on average you should expect to make 2.5-3.5 STRONG per month. With STRONG current price being about $530, that equates to $1,400-$1,850/month. Meaning you should have your first node paid off in about 3 months time.
This can be a great passive income stream as once you have paid off the node, you can use those rewards to get a second node and double your monthly passive income, or just collect them to use for other ventures. Also, as the price of STRONG increases, that just increases the amount you are making per month. As recently as 1-2 months ago, STRONG price was $1,200. Imagine the price going back to that level again and you are making 2.5-3.5 STRONG per month. Now you are making $3,000-$4,200/month.
I would consider this venture about 98% passive income. The only thing you have to do is remember to pay your monthly $14.95/month fee. Other than that, just sit back and collect those STRONG rewards and check off the box of creating a passive income revenue stream for yourself.
Conclusion - Important Changes Upcoming - Please Read
As always, I hope you learned a lot from this article and this can help you make a better judgement call on if you want to invest into a STRONG node or not. If you run into any issues creating the node or have any additional questions for me, you can reach out to me on Twitter for support.
*New Passive Income Tracker!*
Also, you may be asking yourself, how in the world am I supposed to track this and figure out how much I am making daily, weekly, monthly? Well, I got you covered. I have been working on a very comprehensive spreadsheet that breaks all of this down for you and helps you keep a pulse on the money you are generating. You can check it out here.
I put a lot of time and effort into this spreadsheet and I personally use it everyday, if you feel inclined to pay for the spreadsheet, you can name your price when downloading it, no hard feelings though if you just want to pick it up for free as well, that is always an option.
Newsletter Changes
Last important note before I let you go. I want to sincerely thank you for subscribing to my newsletter and offering support and engagement on Twitter.
I am migrating this newsletter to a new host after this article. It should be very minimal or no impact to you as you will still receive future articles, they just will be coming into your inbox from a slightly different email address (info@thebreadmaker.app) and the site will be hosted at a different web address.
I will communicate all of this to everyone on Twitter in the coming days and weeks so everyone is aware, again, shouldn't be any impact for you as a reader, after the first article comes out from the new platform, you may just need to check your spam folder as it may be there because its coming from a new email address.
Thanks again for your support and can't wait to continue to grow and share passive income strategies with everyone going forward!