The 5% Rule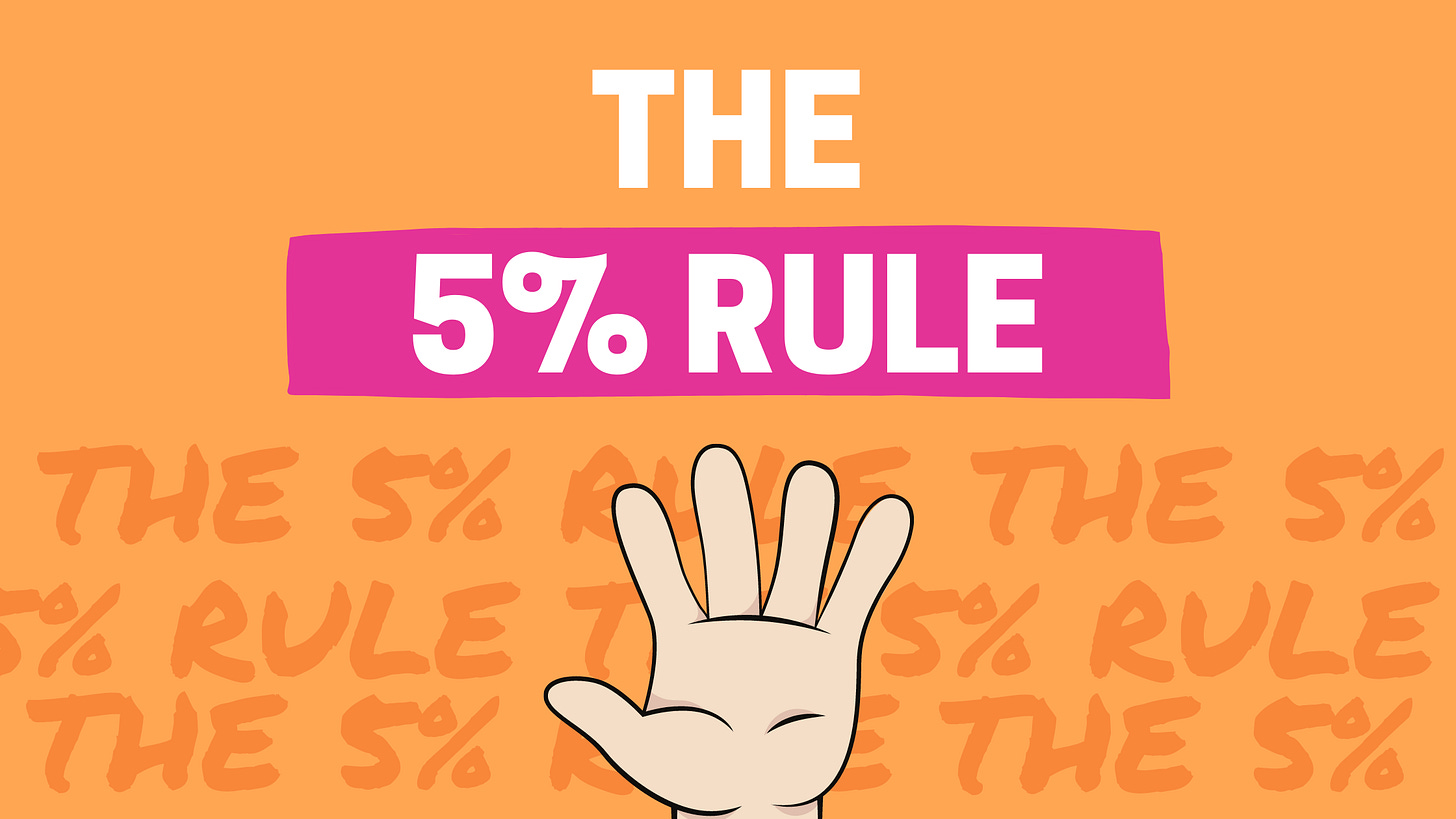 By nature human beings are greedy as hell. Stock market traders are even greedier. We're gamblers looking for that big win that's going to set us up for early retirement. I'm sure you've read those articles that talk about that lucky schmo hitting gold with a 1,000% gainer. Looking back in just this year alone I can remember 300% and even 400% gainers that occurred in stocks I was trading. I want you to understand that this is very rare and unless you're lucky as hell you should never be reaching these level of gains on a stock.
I mean it. When trading short term you shouldn't have a single stock gain higher than 20%(excluding options). If you do then you're gambling my friend. Now, when I say short term I mean less than 2 months. Anything held less than two months isn't investing - it's trading. Don't get me wrong, if you're investing into a company long term then yes we will want to see higher than 20% gains over the life of our holding. This article though is going to focus on our short term trading and why staying disciplined is the key to success.
Discipline. Yep. There's that word again. It's one of the three pillars to successful trading and it's the backbone of the 5% rule. If you do not have discipline you won't succeed at trading stocks. I can't say that enough. Practice it on every trade.
The 5% Rule is simple and very effective. It helps you take profits and move on to your next trade without getting caught in the emotional rollercoaster that a stock often brings with it. It also helps you escape and run away from a stock when things get sour as well. Every trader needs to have their own rules but if you aren't a successful professional then my suggestion is you start with this one.
The 5% Rule
Remember, I said it's simple. The 5% rule means that we are shooting for 5% profit from our trade. Yes, I know that this might not seem like a lot to some of you. However, compounding that 5% week over week is going to do some serious David Blane magic. If you're trading with just a hundred dollars then making five bucks on every trade isn't going to seem like a real win. However, making 5% on twenty grand is going to feel great.
Our target is 5% because stocks tend to run 5-10% on reversals. The strategy that we know and love and hold dear to our heart see's these price target hits on nearly every play. More on that later though. With 5% as our target we are entering and exiting before the hype turns our golden apple into a poisonous one. Trust me, in every bullish stock run there is a point where buyers start to become sellers. People will realize that the stock is getting too much hype and shorts will come flocking in. When this happens the trade is iffy. As a successful trader we never want to find ourselves in these murky waters. We want to be three trades down the road when this happens.
I could talk about this strategy for days but the best way to show the effectiveness is with data. Below is the magic of compounding your 5% and what it can do to your account regardless of the size.
I typically trade with a brokerage account within my 401k. It's a cash account which means if necessary I can day trade it as long as I still have cash to buy with. My account was once nothing. When I first started I just wanted to learn the basics of trading and while I got extremely lucky I also found myself with some pretty big losses. Needless to say once I became disciplined I was able to strategically use the 5% rule to consistently lock in profits and overtime my account went from $5,000.00 to over $50,000.00! This is where I keep my account now.
Okay, enough talking. Let's see the magic!
I typically make three trades a week. I use my entire balance across those trades. This can be risky and defeats the purpose of the age old wisdom of not putting all of your eggs into one basket. One thing to keep in mind though is that this is just one egg in my big basket of investments. This is my short term trading egg and if I lose it all…well while that would suck I would still have the rest of my diversified portfolio working for me.
Okay, for real now. I'm done talking here's the magic:
Three trades a week:
Starting balance of $5,000.00
5% profit on each trade.
Week One:
Trade 1: $5,000 buy in. Profit: $250
Trade 2: $5,250 buy in. Profit: $262
Trade 3: $5,512 buy in. Profit: $276
End of First Week: $5,788 Profit for week: $788
Week Two:
Trade 1: $5,788 buy in. Profit: $289
Trade 2: $6,077 buy in. Profit: $304
Trade 3: $6,381 buy in. Profit: $319
End of Second Week: $6,700 Profit for week: $912
Week Three:
Trade 1: $6,700 buy in. Profit: $335
Trade 2: $7,035 buy in. Profit: $351
Trade 3: $7,386 buy in. Profit: $369
End of Third Week: $7,755 Profi for weekt: $1,055
Week Four:
Trade 1: $7,755 buy in. Profit: $387
Trade 2: $8,142 buy in. Profit: $407
Trade 3: $8,549 buy in. Profit: $427
End of Fourth Week: $8,976 Profit for week: $1,221
End of Month Profit: $3,976.00
Yep. We almost doubled our money.
I know you're thinking…this can't be real. Of course, there are a few hiccups along the way. We might have to hold a stock longer than we like. We may be forced to take a loss and exit. Generally though there are plenty of months that look like this. As I mentioned above my account is at $50,000. This allows me to break up this amount of money into chunks of $10,000+ and spread out my cash so it's easier for myself to reach these levels than someone with just $5,000 in their account. The key takeaway from this exercise though is 5% adds up.
Stop chasing incredible gains. Those are shooting stars and while there are multiple shooting stars every night its hard to predict where they'll be and they move too fast to catch the profit. Instead focus on the stars. They are spread out all over the market and can be found every single day.
The 5% rule works. Delete the "Get Rich Quick" mentality from your mindset and with patience, discipline and time you'll see the growth in your account.