NFTs - Business is Boomin!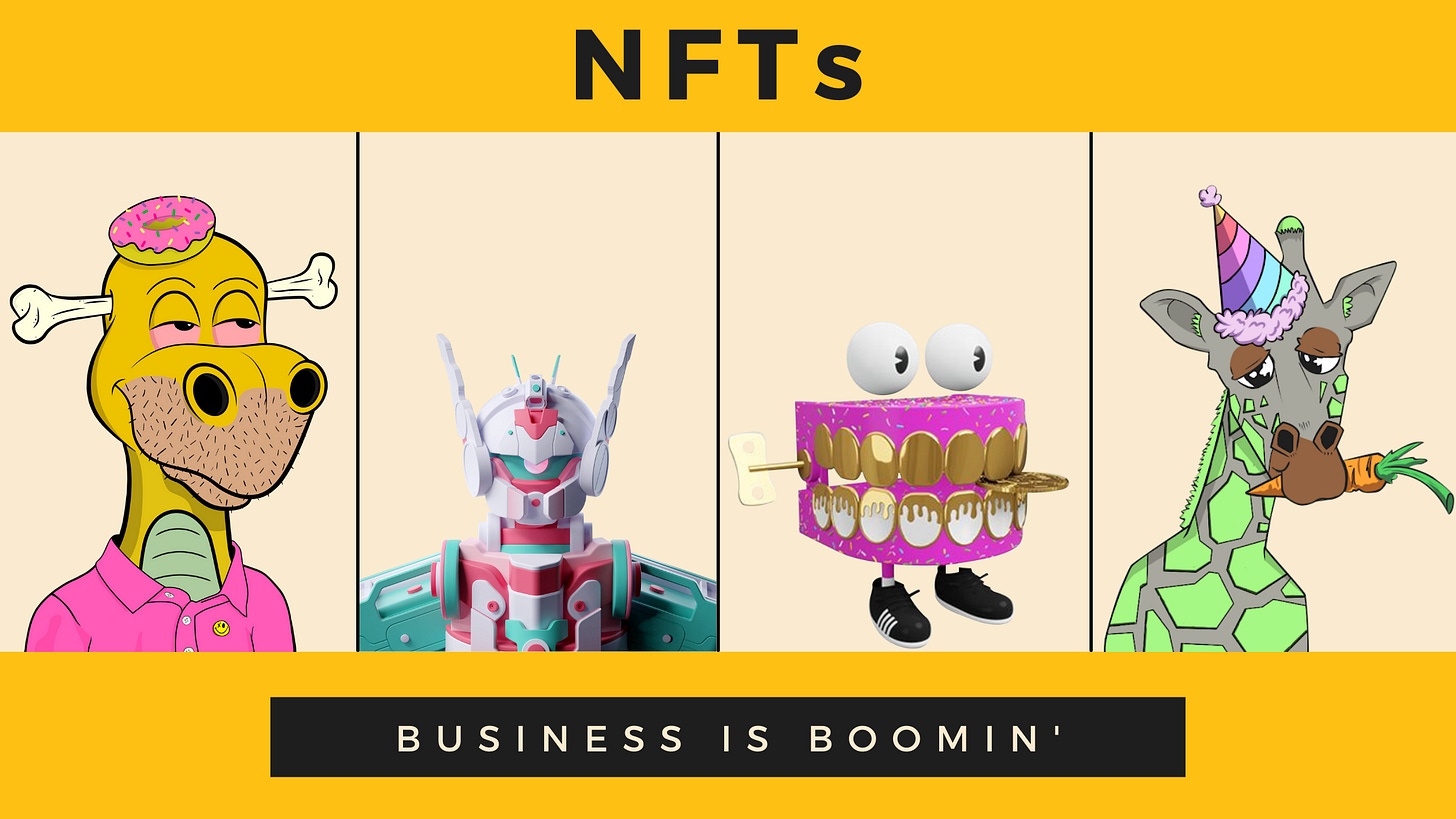 The NFT craze is still alive and well and thriving more than ever before. I'm going to take a deeper dive into this world, and take a look at what it has to offer and most importantly, how can we make money from it! We can start super basic and just discuss what exactly an NFT is and how it can be used and then from there, jump into the nitty gritty of it.
What is an NFT?
First, what does NFT even stand for?
Non-Fungible Token
Ok... that tells me nothing.
So basically it's a digital assett that you have ownership of, whether that be art, music, videos, real estate etc. Think of it as the modern day collectible. They are all bought and sold online, most of which reside on OpenSea which is one of the main NFT marketplaces. NFTs are all securely transacted on the blockchain which is the same technology that cryptocurrencies reside on - this ensures that whatever NFTs you own are one of a kind. This technology also makes it very hard for your NFT to be altered or counterfeit.
To get a clearer explanation of this, let's take a a look at some examples of a fungible item vs. non-fungible:
Fungible Goods:
Items that are interchangeable because they are identical to each other for practical purposes

Stocks, Options, and things like a dollar bill are fungible goods because me and you could swap dollar bills and we would still each have $1.
Non-Fungible Goods:
Items that have unique qualities that either add or subtract value

Think of items such as a diamond or a piece of land. These are considered non-fungible goods because nobody has the exact same piece of land or exact same diamond that you have. Each has their own characteristics such as cut,color, shape, size. These all add or subtract to the value of the item

NFTs are the same, as each asset has unique properties that make it more or less valuable than other NFTs
So you may be asking yourself the common question of: "So why can't I just take a screenshot of an NFT that sold for $1 million dollars and now I own it too?"
Well, theoretically you could do exactly that, however similar to owning a physical piece of art. The owner of the original piece is the one that holds the most value. Think of the person who owns the original Mona Lisa painting, you could have a copy made and hang it on your wall, however its going to be worth far less or close to nothing in comparison to the original. NFTs operate in the same way.
This should give some basic context into what an NFT is before we take a deeper dive into this crazy world.
---
Quick Money vs. Investors/Collectors
NFT holders can basically be broken down into the above categories. There are some that are trying to do some quick flips, be in and out and onto the next project. This is similar to a day/swing trader in the stock market. Then you have your investors and/or collectors who are buying NFTs because they like the art or utility of it, or they just want to build out their collection. This is similar to a long term investor in the stock market. Just like in stocks, there is no right or wrong way to approach NFTs, day traders, swing traders and long term investors all can make money doing their thing in the stock market, it just comes down to a personal preference. Same can be said for NFTs. If you want to buy a NFT that you think has potential and then sell it for more money shortly thereafter or if you like the art, want to invest or build a collection and have the potential for long term gains, both are great options and available for you to decide how to proceed.
---
Identifying Profitable NFT Projects
This is probably the hardest part of buying NFTs and the most important part of this article. Just like stocks, NFTs require some vetting and analysis before just buying up. You more than likely aren't just going to spend $1,000 or more on a random stock without looking at what it is, how it has performed previously, its founders history, financial data, news, technical analysis. All these things apply to stocks, and while NFTs are a new category, they operate somewhat similarly and require proper vetting and analysis before buying or else you more than likely won't be very successful.
I'm going to breakdown a checklist of some of the things you need to look out for or have answers to, prior to purchasing an NFT project, this checklist will give you a higher chance of making money and buying into a successful project.
✅ Check OpenSea for "Verified" Projects (Blue Checkmark)
✅ Owners listed on projects website
✅ Identify # of items for drop/price/release date
✅ Check # of social and Discord followers/engagement
✅ Join Discord community and check room activity
✅ Check OpenSea stats for Top Ranking/Highest Volume NFTs
✅ Identify what future utility/roadmap looks like
✅ Like what you buy
Keep in mind the above checklist is just a guideline, you may be able to venture off of this list and still make good money, however I believe if you follow the checklist above you will give yourself the best chance of buying profitable NFT projects.
So let me expand upon each one of these items on my checklist to give you additional details.
✅ Check OpenSea for "Verified" Projects (Blue Checkmark)
You want to go to OpenSea website and look at projects that have a blue checkmark next to them, this means OpenSea themselves has verified the project as legit, this helps cut down on potential copycats or scams
✅ Owners listed on projects website
Having the owners listed on the website helps validate the project and make it more real. I at least want the owners to have their real names or their social media handles listed on the site to give it more validity.
✅ Identify # of items for drop/price/release date
Being able to know going into the project how many NFTs will be available, what price and currency they will be in and what the release date is helps you prep and plan on if you want to join in.
✅ Check # of social and Discord followers/engagement
This one can sometimes be deceiving with the ability to buy followers or discord bots however if all the other items in the checklist fall in line, more than likely this portion will be real people. You want to check their engagement from others on social media too, likes, retweets, hashtags, all of it.
✅ Join Discord community and check room activity
Pretty much all of these projects have a Discord group, I highly recommend jumping into the group and just observing the interactions, how engaged are the owners, how engaged are the members, if it is like a ghost town, chances are project is either currently failing or doesn't have much hype leading to the drop.
✅ Check OpenSea stats for Top Ranking/Highest Volume NFTs
This item refers more towards projects you may buy into after drops have been completed, as pre-drop, most of the NFT projects won't show up here because they don't have any sales
✅ Identify what future utility/roadmap looks like
This one can be a mixed bag of information, it more comes down to personal preference. All of these NFT projects have a roadmap, and most look the same. Sell out of drop. Give back to charity/community. Develop a game. Create Gen 2. Too be honest, 95% of these roadmaps will never happen, but if you like the direction they are heading and all other items check off, then jump right in.
✅ Like what you buy
If you are personally passionate about the art or NFT project and think it looks cool, chances are a lot of other people do as well. If you and others like it, that gets everyone talking about it, that gets people to dig in their wallets and buy it, which if you are selling, makes you money.
If you follow the checklist outlined above, it will give you the best opportunity to be profitable on the NFT project you bought into, as well as limit the chances of investing into a project that fizzles out or losses money.
---
What am I Holding?
I get asked this question pretty regularly with others curious as to what I am currently holding. You can check out my OpenSea catalog here. I recently sold out of my Zed.Run horses and am currently exploring a couple of newer endeavors. My most recent one and one that I feel pretty confident in Dapper Dinos, they check off all the things in the above list. Passionate, transparent owners, blue check on OpenSea, highly active Discord and social media channels, outlined roadmap and future utility, and I love the art. I belive this project will make a lot of noise in the coming months.
---
What am I Looking Forward To?
There are two projects that are coming very soon that I am interested in joining. One of which is MekaVerse, this one has massive hype and will be releasing 8888 Mekas. I can all but guarantee if you are lucky enough to get one on drop day, you will 10x your money at minimum from the original drop. Again, checks all my boxes for success, and has very cool artwork.
The other one which will be dropping tomorrow is GrillzGang, they have a more limited run of 5555 NFTs dropped which increases scarcity. But this one is a partner project to the very popular VeeFriends. Dapper Dinos was the first partner drop and this will be the second. I believe this will follow a similar trajectory as Dapper Dino's and be quite successful going forward. Here are some additional details to the GrillzGang drop if you are interested.
Grillz Gang
Cost to mint: 0.06 ETH each

Number available to mint: 2,496

Wen Grillz? Monday Sept. 27th - Time: TBD

Tentatively 5 per wallet - Subject to change
Checks off all boxes of my above profitable NFT checklist
---
I will be continuing to dive deeper into the new world of NFTs and share my thoughts and knowledge through these articles as well as more immediate information through my Twitter account. So be sure to subscribe to the newsletter and follow on Twitter so you don't miss a moment of the action! Hope you enjoyed this article and learned a thing or two about NFTs.