How To Make Money Trading Options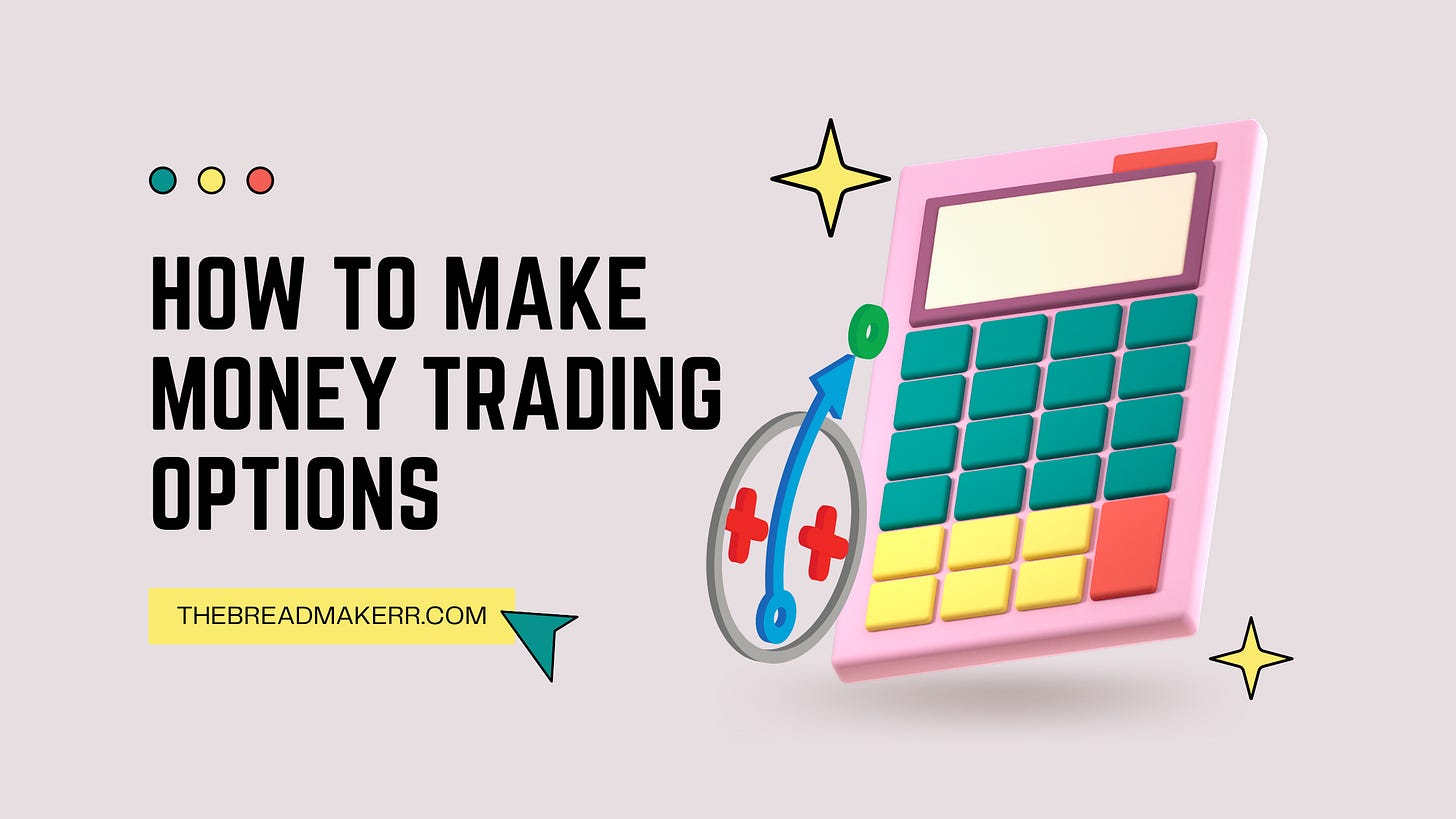 I understand the title of this sounds like a gimmick. When you say it out loud it sounds like a salesman is about to pitch you one of those small yellow books with a title like, "Trading Options for Dummies." I'm not here to sell you anything though. In-fact, all I want to do is show you how you can be a successful investor in this crazy-insane market.
Now, I know what you're thinking. "Why, oh why, would I be giving out this secret sauce?"
The answer is simple: It's not a secret! There's no sauce and I'm not "giving" you anything - I'm opening your third eye to the endless possibilities of profit that the universe has to offer you.
Alright, maybe that last line sounded a little hippy-dippy.
How many times have you heard someone talk about "blowing up their account" or taking a phat loss on a trade and then not recovering from it? I'm sure it's more than a handful of times. I see these comments almost daily while I'm surfing the inter-webs of the stock market communities. I see it all over StockTwits and Twitter. But why? Why am I seeing these atrocities?
Are you ready for….the sauce? Well here it is baby:
Position Sizing.
Wait...what?
Yup. Position Sizing. I talk about it a lot. No one should blow up their account and if they have it's because of this simple rule that they forgot to follow. I used to call it the $500.00 strategy. The reason for this is because I found that the average account size amongst people I interact with was $2,500.00 A better name for this though is:
The 20% strategy.
I know...I know...super creative name in play!
The 20% strategy is super simple. It's an effective way to ensure that you're never going in too deep on your buys. 20% also allows the flexibility of multiple day trades and or swing trades at a single time. Now that's a sales pitch!
But does it work with small accounts?
You bet your sweet asphalt it does!
The 20% strategy can effectively work for ANY account size. Obviously, if you have a smaller account your profits are going to look like a heaping pile of weak sauce. But that's ok! When you're looking at financial gains you don't want to judge your success by a dollar figure. You have to analyze these sweet profits by looking at the percentage gain.
You should NEVER blow up your account when using the 20% strategy. If you do...perhaps trading options isn't your thing and maybe your side-hustle should be comprised of something else.
Now, because I'm the great all-knowing Guru of questions and answers I know what you're thinking right now. "What if I average down? Won't I effectively be in more than 20%?"
Short answer: Yes and No.
Long answer: Yes, of course you will be in this particular ticker for more than 20%. However, if you averaged down there was a reason for it. Perhaps it was to limit some of the loss or take advantage of a sudden and or unpredictable move in the stock. Either way, the 20% strategy allows you to average down once (you never average down twice or thrice) successfully without going "all in"..
Going "all in" is gambling. Sure, if you hit it big you're going to have that incredible brokerage profit screen to showcase on your Instagram and all over StockTwits to your beloved followers. Maybe you'll hit it big a second time...A third? Doubt it. When you're gambling the house always wins buddy.
So, what have we learned today?
The 20% Strategy should be in your 3 Rules of Trading at all times. It should never be removed and it should always remain as one of your top priorities when taking a trade. Don't take my word for it. Go try it out and if it works for you let me know on Twitter.