How to Buy and Stake Wonderland - $TIME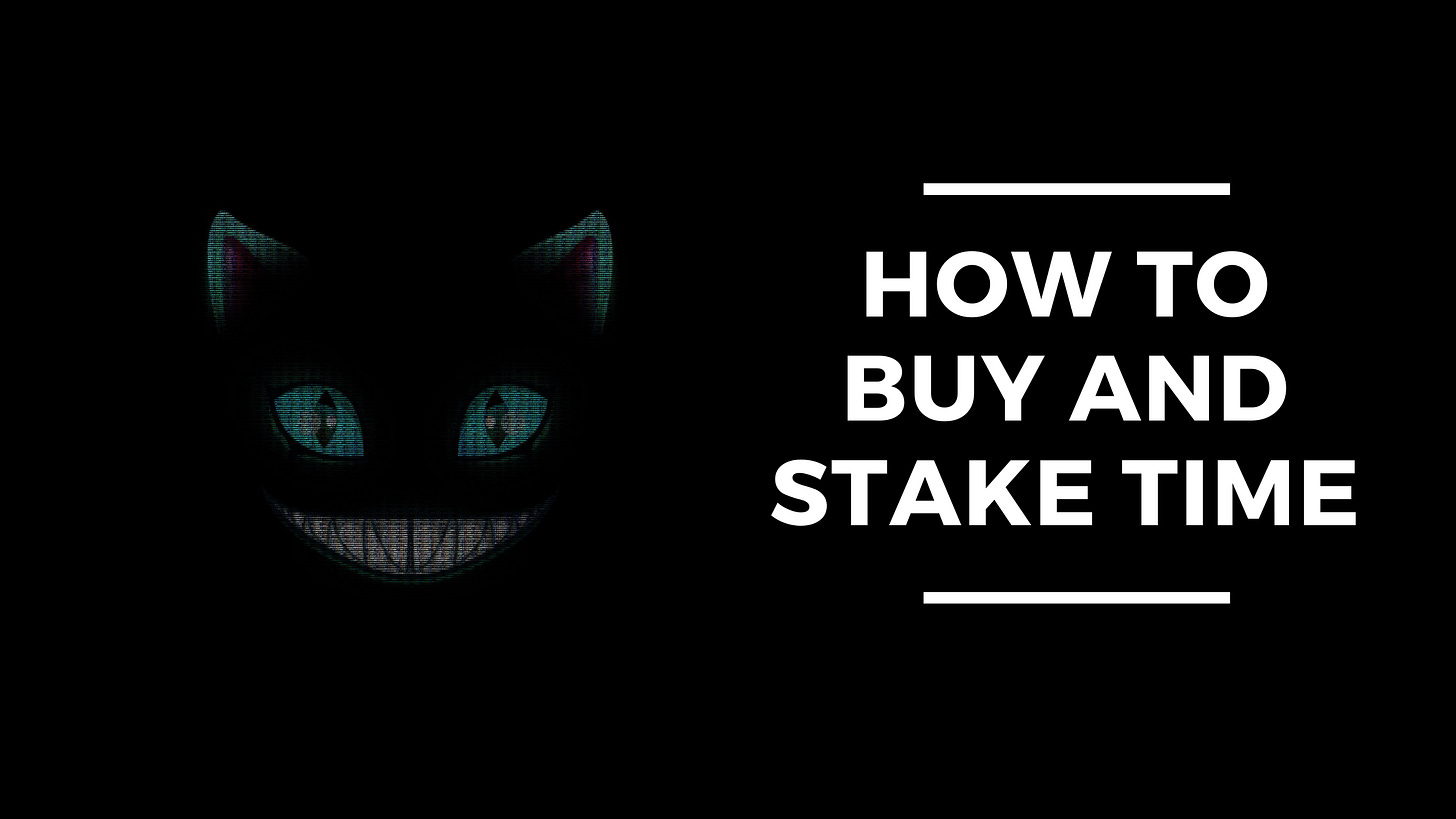 You may have seen my last article about staking klima. Well, I also bought up TIME and I am going to walk you through what it is and how to stake it.
For starters, TIME is another DAO that offers a very high reward APY for holding and staking this coin. At the time of writing this article, TIME currently has a 90,000% APY! Normally I would spend time(no pun intended) writing about what TIME is, what it does and all that, but they have some really good documentation on their website that I will link below if you would like to learn more.
First link is the website itself. Be very careful if you end up google searching the site, a lot of fakes currently out there.

wonderland.money
https://docs.wonderland.money/ - TIME information
---
---
Benefits to Buying and Staking TIME
You may be asking yourself why you should buy and stake this TIME token. Well, for starters, the massive APY you receive on it for doing absolutely nothing is pretty legit. The current APY is roughly 90,000%, however you may be one that is thinking well, I'm not going to hold it that long or won't the APY diminish over time. The answer to that question is yes it will. So let's look at the rewards accrued daily and every 5 days so you can get a better idea of what it looks like.
With TIME you get 3 rebases(rewards) paid out every 24 hours. As of right now each rebase is 0.62%. So if you multiply that by 3 you are earning 1.86% in rewards on whatever amount of money you staked. The rewards paid for every 5 days 9.77%. Pretty nice, making 10% on your money compunding every 5 days. Impressive! Let's look at an example of what that looks like over time.
Let's pull from the same example we used in the Klima article which was that you deposited $4,000 into TIME and staked it. Here is what your accrual would look like:
5 Days: +$390.81 in interest
15 Days: +$1,290.72 in interest
30 Days: +$2,997.92 in interest
45 Days: +$5,256 in interest
60 Days: +$8,242.72 in interest
90 Days: +17,418.38 in interest
I will cap it at 90 days as there are a lot of factors that can sway the numbers above, such as:  the token price and daily/annual interest drop or increase. Even with that you more than likely will be looking at some pretty insane profits available for a very limited amount of work. The only way this could go against you is if there is a significant drop in the price of the token. When I say significant I am talking about a 70-90% drop in a short amount of time.
I am in Klima coin and that dropped roughly 50% in value from my original purchase price but with 2 weeks worth of rebases I was able to be at break even even the price dropped. Since that happened the price has recovered about 30% and now I am up considerably on that DAO.
---
How to Buy and Stake TIME
Let's get into the main reason for this article. We all are now super pumped and interested and need to know how do I buy this thing!
First thing to mention, is to buy TIME you will need to have funds on the Avalanche network.
My recommendation is to buy the AVAX coin on whatever exchange offers it and you would like to use.
Once you have AVAX in your metamask wallet, you then will want to navigate to https://traderjoexyz.com/#/home. This is where you can swap your AVAX coin for TIME. You can scroll down to the bottom of the home page and you are looking for  TIME with an hourglass logo.
Then you will enter the amount of AVAX you want to swap for TIME and complete the process.
Ok, now you have TIME, but you still need to stake it. So navigate to https://app.wonderland.money/#/stake once you are there, you should see a screen that looks like this:
Here you can just click the "Max" button and then press "Stake TIME" then you should receive a MetaMask popup to approve the transaction and boom! You did it! You know have your TIME staked and are accruing rewards.
---
If you have any questions on this process or run into some snags, feel free to reach out to me on Twitter and I can help guide you through the process further.