How to Buy and Stake KlimaDAO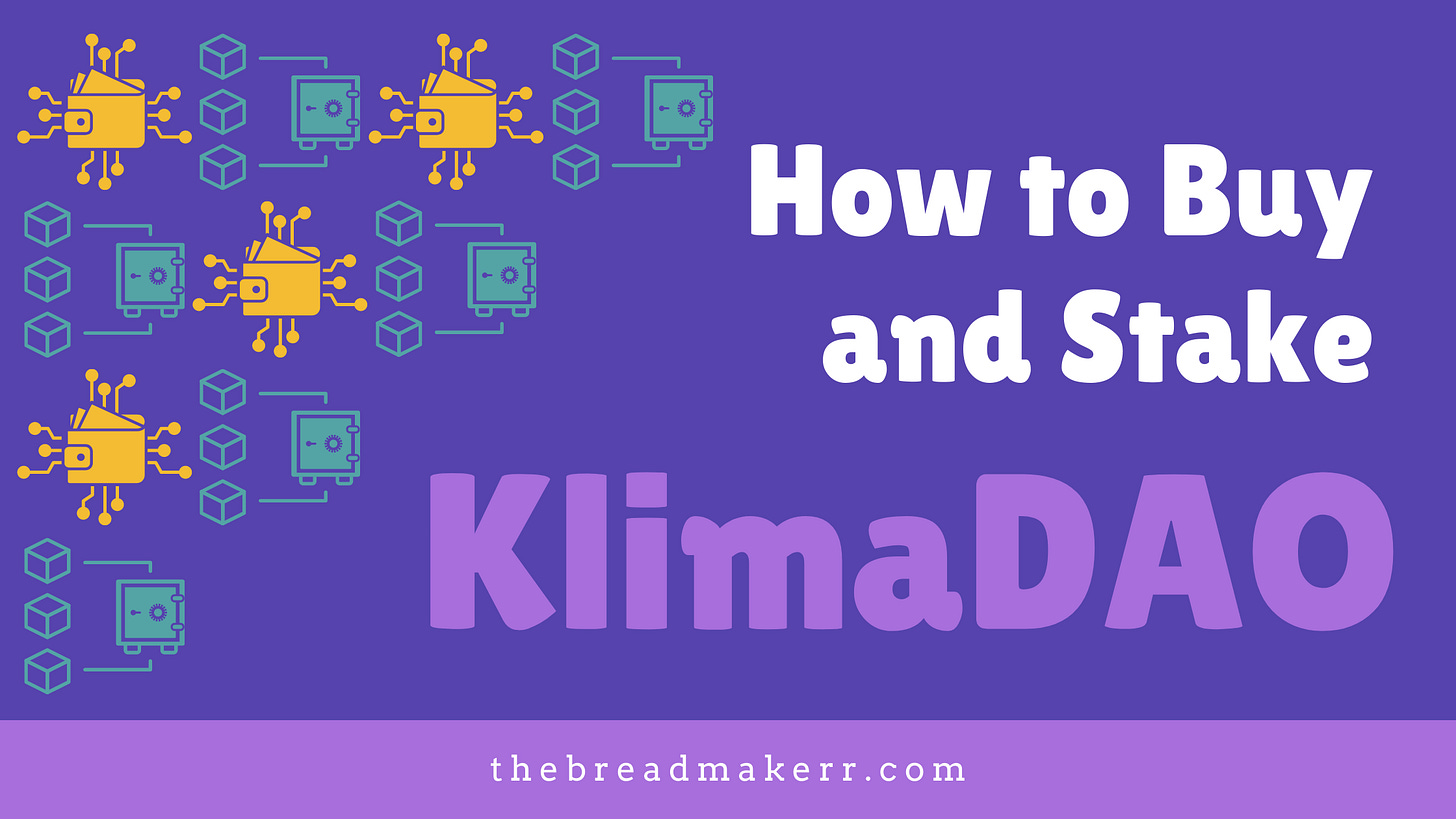 First off, I am sure most of you are like what is $KLIMA? For starters, it is a form of crypto called DAO(Decentralized Autonomous Organization). Basically, what a DAO is, its a group of people that pool their money together to fund their DAO's mission collectively. Very similar to a venture capitalist firm. So now you may be asking, what is Klima's mission?
Klima's mission is to assist with climate control and reducing carbon. Klima starts by identifying the value of carbon and then reward people who participate in the carbon market with value or influence. There is already quite a bit of good information on the interwebs about KlimaDAO so I will provide them below and allow you to gain some further knowledge.
---
Receive MASSIVE APY % for Staking KLIMA
One of the major benefits to buying and staking your Klima is the massive amount of interest you can receive by doing so. At the time of writing this, Klima's current return rate is 34,296% APY. Let me say that one more time.. 34,296% APY! You are probably like, thats a joke right? Nope, this is 100% serious real life, go get that cash moment! The interest you accrue is daily as well which is pretty awesome, and you can unstake and move your funds out of this coin at anytime if you want to take the interest you accrued and move on. Hell, you could stake it for one day, and  take the interest payouts and leave if you wanted to.
Klima pays interest/rewards 3 times per 24 hours, so you will receive what they call a "rebase" every 8 hours. You can view all this information on their website when you stake, which I will link a bit farther down in this article.
The other added benefit of accruing interest on Klima is the fact that the rewards you receive just automatically get reinvested in Klima so then you start reaping the benefits of compounding gains. Before we go over the guide to buying Klima, let's run through a quick example of if you were to stake $4,000 into Klima what kind of interest would you be accruing over multiple time frames.
This example is if the price of Klima stayed the same throughout these dates. Obviously there is risk with buying and staking Klima as just like other cryptocurrencies and stocks if the price of Klima goes down while you are holding you could lose money
Ok, so you just purchased $4,000 worth of Klima and staked it, here is what the interest accrual could look like:
5 days: +$343 in interest
15 days: +$1,096 in interest
30 days: +$2,479 in interest
45 days: +$4,237 in interest
60 days: +$6,471 in interest
90 days: +$14,923 in interest
I won't go past the 90 day mark, I think you get the point. A lot of passive income can be made by staking money into Klima. There are a ton of variable factors that can play into the above numbers. The price of Klima will change, the higher number of people staking Klima the lower the APY, so expect the APY to get lower over time, but I still expect the APY to be in the thousands 60-90 days from now, so there is still a lot of money that can be made, the biggest risk is the price of Klima, if it were to drop significantly, that is one of the only ways I can see this opportunity not being highly profitable. As with all crypto and stock trading there is some level of risk involved.
---
How To Buy and Stake $KLIMA
Beginners and advanced crypto traders and hodlers can still easily get tripped up when buying and swapping crypto currencies and it can be a little bit nerve-racking when sending funds because one false move can lose you a lot of money very quickly. So with that I wanted to put together a comprehensive guide on how to buy and stake Klima so you don't get tripped up or end up receiving wrong information.
Step 1: Have a crypto wallet already setup
Make sure you have a crypto wallet already setup and ready to go. If you don't already have a wallet, I highly suggest MetaMask, it is one of the most widely accepted and popular crypto wallets out there. Your crypto wallet is where whatever you buy will be stored. There are a ton of other wallet options out there for you to choose from as well, however I recommend using MetaMask. You can create an account with them here.
Step 2: Add the Polygon Network to Wallet
KlimaDAO operates off the polygon network not the ethereum network, which at the time of writing this is great because gas fees for Ethereum are insanely high right now so this will save you a lot of money of potential transaction or network fees. You can manually add the Polygon network to your Metamask account but there is an easier way, Klima's dApp can automatically add the Polygon network to your Metamask account for you. Just head over to their dApp webpage and connect your wallet and the site will prompt you to "Switch to mainnet" and auto add Polygon for you.
Step 3: Add funds to your wallet on Polygon Network
Since KlimaDAO is on the polygon network we want to add funds to that network so we can easily swap them for Klima in future steps of this process. There are quite a few ways to go about this.
First, I would recommend funding your Polygon wallet with like $10 in MATIC so you can cover any network fees when swapping tokens. My personal recommendation is to buy $USDC because you can then swap that token for $KLIMA and you will be limited the amount of fees paid to complete these transactions. Let's get to your options to get funds into your wallet.
A. This option is probably the most easily accesible but the most expensive. If you already have ETH in your wallet you can bridge them to your wallet on Polygon. The downside to doing this is you will have to pay gas fees to complete this transaction and those fees can be quite expensive.
B. Buy directly from a token exchange or broker. There are quite a few options out there now to purchase crypto direct. Some of those popular options are listed below:
Kucoin
Crypto.com
Binance
Okex
Coinbase - Coinbase doesn't offer Matic on Polygon so you will need to buy USDC and transfer to Metamask and then bridge it via Polygon Bridge.
Just a reminder that you need to buy MATIC on Polygon or $USDC from one of the above exchanges. You can't buy Klima direct from any of the above options.
C. Buy using an on-ramp transaction site such as Transak and be able to buy directly with a credit card for a fee. Just a reminder, be sure to select Polygon as your target network.
Step 4: Buy KLIMA on SushiSwap
Ok, phew! You made it past the hardest step. The rest of the process is relatively easy. Before you go to SushiSwap, make sure to check your Metamask wallet and ensure you are connected to the Polygon network and you see your funds in the wallet. Once you confirm that everything looks good we can finally swap it for Klima. So you will want to navigate to https://sushi.com and click on "Enter App" in the top right corner. Then you should be able to connect your wallet and it will ask you to select the "Swap From" and the "Swap To" fields. Make sure to set the Swap From as MATIC and the Swap To as KLIMA. It should look like the screenshot below.
From here you just enter the amount you are going to swap and click swap. You should receive a pop up from Metamask asking you to approve the transaction.
Congratulations! You are now the proud owner of KLIMA tokens! 🥳
Step 5: Stake Your KLIMA tokens
The last step is very easy, all you have to do is navigate to https://dapp.klimadao.finance/#/stake and enter the amount of Klima you would like to stake and then press the stake button. You should see a message below that says "Success!" and that is it. You have officially staked your KlimaDAO. If you ever would like to unstake your tokens, just click the unstake button, type in the amount you want to unstake and press "Approve".
---
I know that was a ton of information thrown your way in this article but hopefully you were able to digest it and follow along to stake Klima and start making some truly passive income in the crypto and DAO world! If you have any questions or hit any snags along the way, I am quite active on Twitter and can help answer anything you have.