$DOE - Dogs of Elon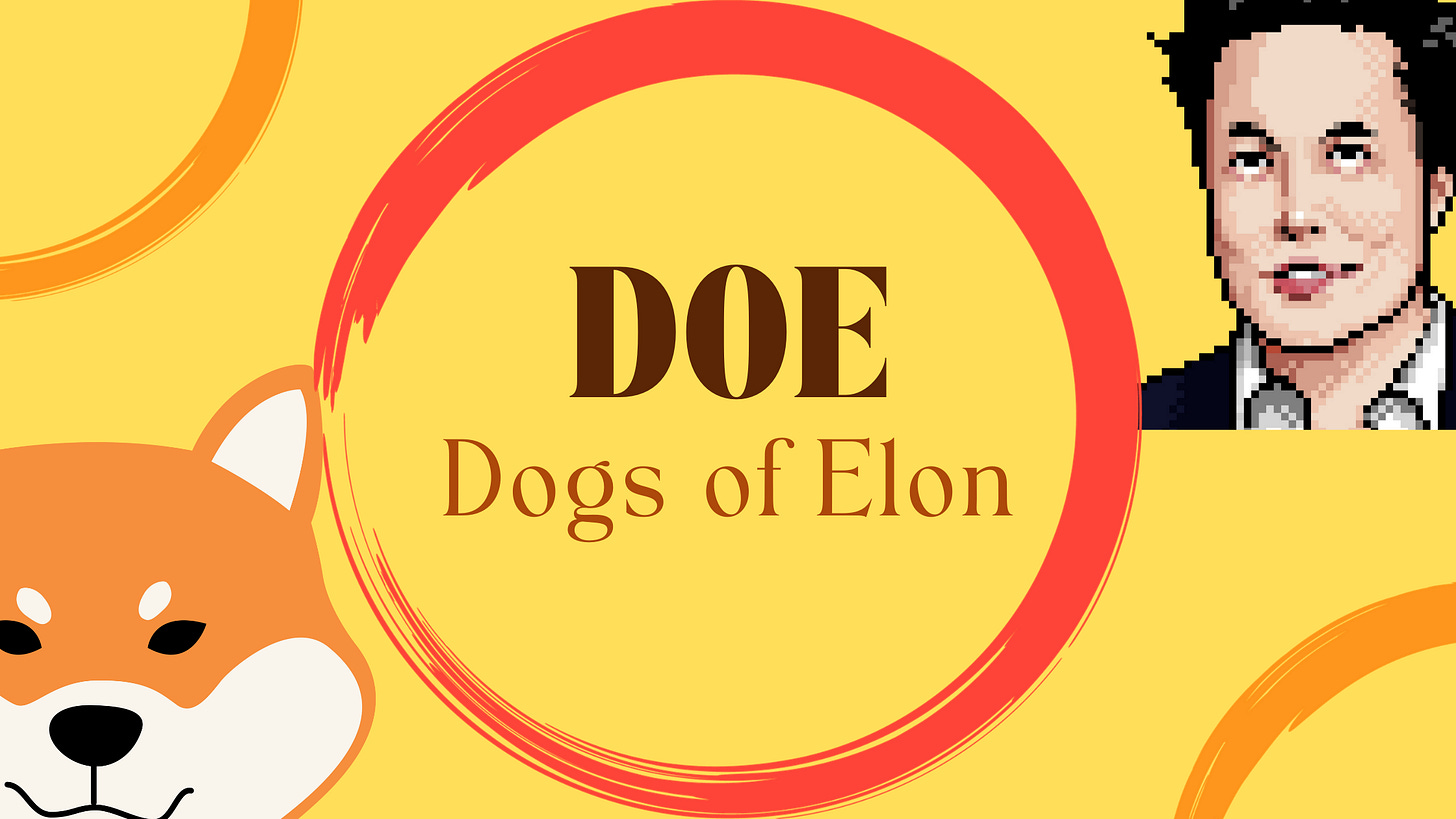 $DOE is touted as a community-focused, DeFi cryptocurrency token and the companion to the Dogs of Elon NFTs. Essentially, it is another meme coin.
TLDR: Pull some of those crispy dollar dollar bills out of your wallet and join myself and 40,000 other individuals on a wild ride! I don't think you will regret it.
Hi guys, @investornaut here resurfacing once again to bring what I believe is another solid money making opportunity. If you've followed @thebreadmakerr for a while you may remember  some of my previous articles alerting $DOGE when it was sitting at 6 cents or even some of my stock opportunities like $NIO when it was sitting at $17.00. While, I don't write frequently when I do get the urge to share it's because I believe. So, for the next couple of minutes expand your mind and let's dive into the wild and crazy world of $DOE.
What is it?
Dogs of Elon is an NFT/Token project that has similar themes we find across all of crypto culture. They've got the shitty CryptoPunks-esque NFT designs, Shibu-Inu focused currency and "All Hail the King" tribute to Mr. Market Manipulating Musk himself. You're probably reading this and thinking that I hate this project but it is quite the opposite - I love it! I'm no ride or die, lips to the tits, to the moon kind of guy(okay you got me I am an investornaut) but I really do have a good feeling about this one.
Why is it unique?

While DOE has a lot of similarities to other projects what makes it unique is the team. I don't know anything about them but I do know they are fantastic at marketing and if you know anything about being a salesman, marketing is half the work. They have spent time and money ensuring this project stands out from the rest and they know if their successful they will make a boatload of cash. I'm not talking pump and dump boatloads of cash, I'm talking roll-out-the-yachts type of cash.
The team at DOE know if they offer a unique situation for investors the coin will produce money for the people and if the people are making money they are going to advertise the hell out of it and thus make the team more money. Hence this article right? If I had to guess I would say the team spent a good bit of time studying the successes and failures of other coins to ensure that this project learns from the best and avoids the mistakes of the worst. So, let's dig in to what they've done.
CertiK Audit

Before the project went live they made it known that this was not going to be a rug-pull. They paid to get audited by CertiK. This means their token cannot be exploited and ranks a 90% secure vote. There are very few NFT projects that have taken efforts and paid to have their project audited. This is a great sign.
For more information about the audit check it out here:
https://www.certik.org/projects/dogs-of-elon
NFT
A tribute to Crypto culture with 10,000 unique NFTs featuring the lovable crypto canine and mixed in are 30 Elons and 70 zombie Doges. These are all sold out. The pre-sell didn't even finish before they sold out. Sadly, I missed out on that one.
What's neat about their NFT is that you can stake it.
*Record skips* That's right…staking NFTs baby!
This is a newer feature to the world of crypto and while they aren't the only project bringing this new opportunity to investors it was the first project I had heard of doing it. What's really wild about staking the Dogs is that you can not only earn their token $DOE(until it runs out) but also $SHIB and $renDOGE as well.
You would think that this team would only want to have stakeholders earn their coin but it looks like they believe in crypto so much they've patterned up with the other memes instead of fighting it out in a dog eat dog world. Heh
$DOE Token

$DOE is the Dogs of Elon token and there was only 1,000,000,000 ever created. Thats a single billion. This sounds like a lot but when you compare it to other meme coins like Doge(infinite supply) and SHIB( in the quadrillions) this is absolutely amazing!
Want to hear something even crazier?
There isn't 1,000,000,000 tokens anymore. The team has burned 60 Million $DOE already.
*Record skips again* That's $28,680,000.00 worth of DOE. That's real money right there.
It takes balls of steel to burn that kind of cash on a meme coin like this. So many other project leaders have taken that kind of money and ran. Not this team.
So not only is DOE a limited supply coin but the team is making it even more limited which as we all know increases the overall value of the project.
Let's look at the staking. 30% of the supply of DOE was set aside for staking rewards. Since this is a limited supply coin once that staking pool runs dry there is no more DOE to earn. However, once again the team at Dogs of Elon have done something really cool - they have partnered with SHIB to earn SHIB tokens when staking DOE.
What about the team? How many tokens do they have? Well that answer is very simple to find on their website. They have allocated 2.5% of the supply for themselves. However, that is locked for 5 years. Yup…so 2.5% of the 1,000,000,000 can't even be traded for the next five years. Solid!
Here's some more figures for your viewing pleasure:

There is so much that this team has already done. You can view their roadmap here: https://dogsofelon.io/roadmap

I'd like to highlight a couple of things from it. First, they partnered up with CoinMarketCap to do an NFT Airdrop. They've also worked hard to get DOE listed on Hotbit, BKEx, LBank, Gate.io, Polonium, Mexc Global. This is huge! This all happened in a weeks time! Plus they have grown their Telegram community to 40,000+ members. Wild!

They've also already donated $185,000.00 USD across different charity organizations!
Also, as of today this message has been broadcasted:
"Our team is currently negotiating with even bigger exchange, but the community must know that the bigger the exchange, the more expensive the listing."
So, am I balls deep into $DOE? Hell no. However, I did put in a small position at 14 cents and I'm letting it ride. $DOE opened up at 5 cents and at the time of this article being written the current price is $0.3501. With only one week in I think we have some pretty awesome things to see with this token in the near future. If you have some extra ducats and want to take a wild ride on the DOE express the time is now.
Thanks for reading this article. As always this is not financial advice it is just one investornaut's opinion. If you would like to learn more about $DOE check out the links below and remember:
-Protect yourself.
-Secure your account.
-Never share your seed phrase
-Make sure the websites you are visiting are legit.
Oh, and don't forget about gas money!

Links:
Dogs Website: https://dogsofelon.io
Buy on Uniswap: https://bit.ly/DOEUNISWAP
Telegram: https://t.me/dogsofelon
Twitter: https://twitter.com/dogsofelon
OpenSea: https://opensea.io/collection/dogs-of-elon
Audited By Certik: https://www.certik.org/projects/dogs-of-elon
JUST $DOE IT! 🚀